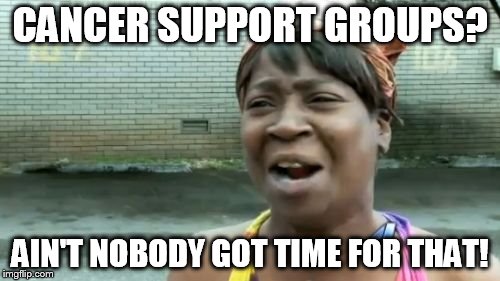 Support Groups.
Those words make me think of alcoholics drinking crappy coffee in a moldy church basement, forced to be there by the court. This picture in my head was put there through various media influences, not based on real life at all.  Is this picture true? Maybe…but not our Support Group!
When Griffin was going through treatment, I asked my social worker if there was a support group for parents like us. I was basically laughed at. "Nobody wants that" and "why would you want to hang around other depressed people?" were the responses I got. I felt like an idiot and very very very alone.
Luckily, Griffin happened to get sick at the same time as some wonderful other kids whose mums are absolutely fabulous! These warrior women have held a household together, kept their marriages alive AND kicked Cancer's butt all while supporting me in my greatest time of need. I'm not at all surprised that this Cancer Mamas got together and started their OWN support group with zero help from the hospital.
And the PARENTS OF CHILDREN WITH CANCER-HAMILTON was born! These amazing parents meet up once a month at the local Ronald McDonald House which has lovingly opened their doors and supply warm baked cookies. We meet in the library of the RMH, a comfy cozy place with big relaxing chairs and soft couches to melt into. You cannot help but to breathe a sigh of relief when you step in there. These Mums and Dads come together, no matter if their children are still fighting, in remission or bereaved, they have found a safe place to speak, to tell their story, share their worries and make friends. We cry together but we also laugh together, a lot. We have battled the same disease together and watched our children grow up along side each other. I DEPEND on these people to get through my daily life! From sharing a funny story of how a feeding pump went awry in the middle of the night to a 3 am shout out for help over facebook. These people keep my head about the water and breathe the sweet sigh of relief into my soul. I know I am safe here. I can speak my truth, without sugar coating it to not hurt someone's feelings or depress yet another person wanting an update. It is a safe place to fall and a protected place to grow. These parents are all knowing, they have wisdom beyond their years in all things, not just cancer! From parenting advice, to recipes that kids will actually eat to temper tantrum tactics to potty training know how. These are people that can help you with anything. I wish I could tell you about the wonderful stories shared, so inspiring and some are heartbreaking, but all are very important. They have forced me to DEAL with Griffin's illness, treatment and recovery and also other feelings that pop up along the way like survivor's guilt or serious anxiety over scans. (aka scanxiety) It is easy to push all these feeling down and not deal with them. But the boiling pot of feelings is going to boil over and attack when you least expect it! I'm so glad and blessed that I found a group that is so amazing!!! (PS, I can't share any stories that have been shared in our group because A) they are not mine and B) We have an understanding of confidentiality that I would not want to break)
So what am I trying to get at? Support Groups are not just for Druggies and alcoholics. They can be a powerful healing tool for you when your child is fighting cancer. Is it for everybody? Heck no! But if you need someone to talk too, reach out. Ask your clinic if there is such a thing in your area. And even if there is not, there are great groups on the internet that are wonderful as well.
The major message? You are NOT alone.
Hug your babies tight tonight folks…